-->
New Match Challenge: Donations matched dollar for dollar by an anonymous donor until 30 June
Thursday, June 25 2020
We're delighted to advise that the Peter McMullin and The Good Business Foundation match challenge of $50,000 has been reached – and we're pleased to announce an additional match challenge of $50,000 by an anonymous donor. This means your tax-deductible donation will be matched dollar for dollar until 30 June – and your impact doubled.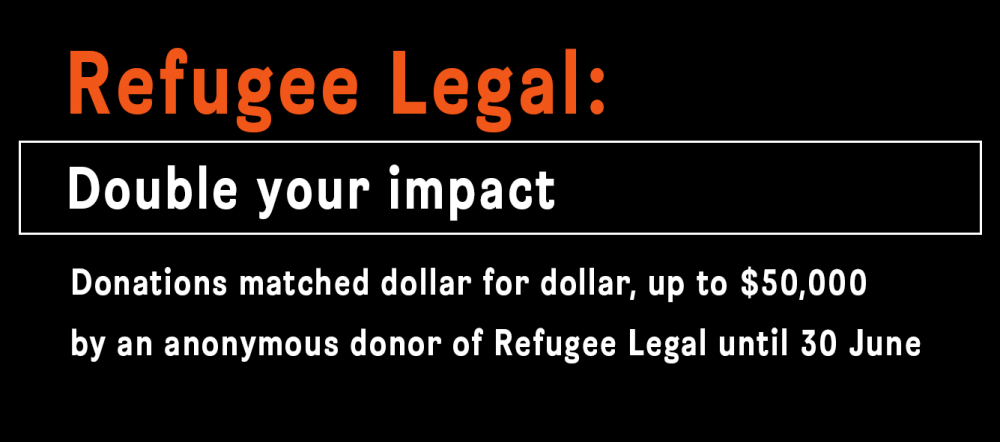 The COVID19 pandemic has affected our lives in many extraordinary ways, but amongst those most vulnerable to its impact – and in desperate need of our help – are people seeking Australia's protection.
Like Omar and his family.
Omar is a 35 year old Rohingya man from Myanmar. He fled in fear and arrived in Australia 6 years ago after a lifetime of brutal abuse at the hands of the Myanmar military. Just last week, he was told by the Federal Government that his protection visa application – made with his wife, Tasmin, and four year old daughter, Rahina – was deemed invalid. They were given only two weeks to lodge a new application.
Last week, Omar called us distressed and desperate for help. We booked him in on the spot to our special legal Clinic – now run remotely. Today, one of our lawyers completed the new protection visa application for Omar and his family, during a remote all-day appointment. The day ended with Omar and his wife having their legal paperwork in hand, ready to lodge before the impending deadline – and feeling deeply relieved.
Based on our 32 years' of experience, we know that our expert legal assistance is so often the difference between people like Omar, Tasmin and Rahina securing safety or being deported to danger.
Help us to help people like Omar and his family who deserve a fair go before the law and the chance to build a better life in safety, with dignity and hope.
Thank you to the many donors who have already donated to our End of Financial Year Appeal. You've helped us to meet the generous dollar for dollar match of $50,000 provided by Peter McMullin and The Good Business Foundation. And profound thanks again to Peter McMullin.
On the back of this, an anonymous donor – and longstanding supporter of Refugee Legal – has now offered a new match – dollar for dollar – for donations up to $50,000 until 30 June.
If you haven't already, please consider giving to our Refugee Legal End of Financial Year Appeal. If you have already given – our sincerest thanks.
All tax-deductible donations will be matched by our anonymous donor dollar-for-dollar up to $50,000 until 30 June.
Let's, together, do all that we can in these turbulent times to ensure that vulnerable asylum seekers, refugees and migrants are cared for and protected.
Sincerely and with thanks,
David Manne

Thank you to Peter McMullin and the Good Business Foundation their generous support.
Categories